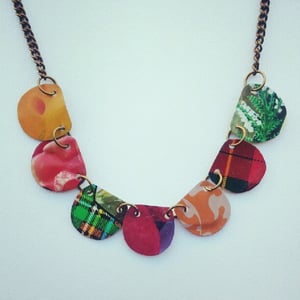 $

30.00
A colourful petal necklace created from recycled biscuit and lolly tins. The tin is hand cut and carefully finished to create a smooth, light necklace.
The petals show the original colour and patina of age from the tins, making a unique, one-of-a-kind piece.
The necklace measures 50cm long and can be lengthened on request. It has an antique silver or brass chain and clasp.
Your necklace will differ slightly from the image shown, making it completely and wonderfully unique! The overall look and design, however, will certainly be maintained!
Handmade in Melbourne